Send Inquiry
Impulse Voltage Generator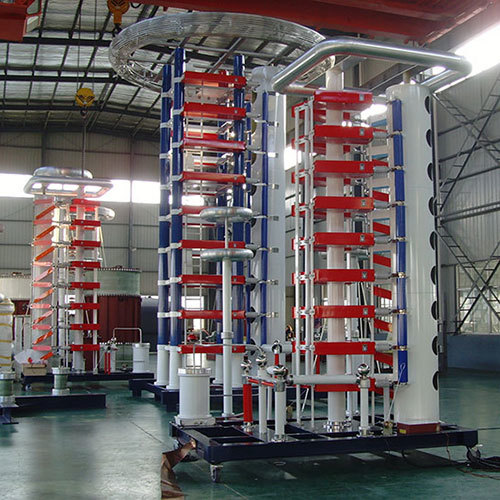 Impulse Voltage Generator
We are entitled as renowned manufacturer and supplier of Impulse Voltage Generator, which can be utilized for generating chopped lightning impulse (chopped time between 2 to 6μs to test voltage transformers, power transformers, instrument and bushings), impulse voltages simulating lighting impulse (1.2 + 30%/50 + 20%μs), switching impulse (250 + 10%/2500 + 10% μs) and steep front waveforms (to test composite insulators, glass insulator or ceramic insulators). Available in varied models, the Impulse Voltage Generator can be availed at negotiable prices from us.

With the possible lowest internal inductance;
With highest output efficiency, the efficiency of LI >90%, the efficiency of SI >80%;
Compact design, beautiful appearance;
Easy operation, convenience in replacing the resistors;
Excellent synchronicity and high stability and accuracy;
Automatic earthing device for personnel and equipment safety;
Automatic control and measurement system with optical fibre;
The automatic control system is very user-friendly with touch panel;
With American Tektronix oscilloscope to record the waveforms;
The measuring system can measure the test data, analysis and generate waveforms in the LCD screen.
Applications: This type of test system can implement lightning impulse test to MV and HV electrical devices such as bushings, power transformers, current and voltage transformers, insulators, GIS, circuit breakers, switchgears, power cables, etc.
Technical Parameters: The test system comprises the following main components:
HV charging unit
Impulse voltage divider
Impulse voltage generator
Measurement system
Automatic control system
Model No.

Rated Voltage

Impulse Energy

Impulse Capacitance

Stage Voltage

Stage Number

(kV)

(kJ)

(μF)

(kV)

IVG100/5

100

5

1

100

1

IVG300/15

300

15

0.333

100

3

IVG300/15

300

30

0.667

100

3

IVG400/40

400

40

0.5

100

4

IVG400/20

400

20

0.25

100

4

IVG600/30

600

30

0.166

100

6

IVG800/40

800

40

0.125

100

8

IVG450/16.9

450

16.9

0.167

150

3

IVG900/50

900

50

0.125

150

6

IVG900/67.5

900

67.5

0.167

150

6

IVG1200/45

1200

45

0.0625

150

8

IVG1200/90

1200

90

0.125

150

8

IVG1600/80

1600

80

0.0625

200

8

IVG1800/90

1800

90

0.0556

200

9

IVG2200/165

2200

165

0.0682

200

11

IVG2400/240

2400

240

0.0833

200

12

IVG2800/280

2800

280

0.0174

200

14

IVG3600/180

3600

180

0.0278

200

18

IVG4800/360

4800

360

0.03125

200

24
Standards: IEC 60060, IEC60076-4, IEC60502-1, IEC60502-2, IEC 60060-2, IEC60076-3, IEC62177, IEC61109, IEC61211 and other IEC standards